Are you looking for the best Android file manager? Are you tired of feeling overwhelmed by the never-ending clutter of files on your smartphone? Are you looking for a way to access, manage, and organise your files effortlessly?
With the advancement of technology, our smartphones have become an integral part of our daily lives. And as we continue to use our devices, the number of files we accumulate grows exponentially. From system files to application files to personal data, keeping track of it all can be a daunting task. But we have got your back!
We've scoured the internet and tried out countless file managers to bring you the best file manager apps on the market. From basic file navigation to advanced features, these file managers will make it easy for you to keep your files organised and easily accessible. Not only that, but file managers are also great for managing files on external storage devices, remote file systems, and the cloud. Say goodbye to cluttered files and hello to effortless file management!
10 Best File Manager Apps For Android For Easy Organisation (2023)
From advanced features like built-in cleaning to cloud storage services, these file managers cater to the user's specific needs and requirements while organising data. Take a look at their unique features and choose the file manager that is best suited to your goals for an efficient and streamlined experience.
An effective and flexible file management tool for Android devices is File Manager – XFolder. It provides all the standard functionality you might anticipate, such as file sharing, compression, transferring, deleting, and renaming. You may quickly examine and manage data on internal and external storage devices, such as SD cards, with the help of this program.
Features: 
Pros
Simple file management and navigation 
Integrated Safe folder for increased security 
Contains performance-enhancing features, including app hibernation and file scanning for unnecessary items. 
The storage analysis feature makes it easier to find and delete huge or redundant files. 
Free to download
Cons
Contains advertisements, but you can pay to get them removed 
The interface may seem a little cluttered to certain users. 
Some features are less potent than those of other file managers available.
Also Read: 10 Best Game Boosters For Android To Enhance Your Gaming Experience
A powerful and feature-rich file manager, Solid Explorer is one of the best android file managers. Thanks to its many features and adjustable settings, you can simply manage and access all of your files and folders. The app gives you a wide range of options for organising your files and folders.
Features:
Pros
Amazing feature-rich 
Can add plugins to extend the functionality further 
Flexible settings let you customise the app to your requirements. 
The software offers 12 different connection options, including Google Drive, SugarSync, and more.
Cons
Free for just 14 days 
You must pay a one-time fee of $5.99 to continue using it after the initial 14-day trial period. 
The app could be too difficult for some people to use. 
Some users might favour a free app substitute.
"Files by Google" is a sleek and user-friendly file manager app that makes managing and organising your files a breeze. With a design consistent with other Google mobile apps, it offers a range of features to help you easily navigate and manage your files.
Features:
Pros
Easy to navigate and use
Sleek and modern design
Wide range of features to manage and organise files
Nearby Share feature to easily share files with those nearby
Clean feature to free up space on your device
Cons
Some users may prefer more advanced features or customisation options.
The deleted files will be kept in a trash bin for 30 days before being permanently removed
Some users may prefer a different design that is inconsistent with other Google apps.
Also Read: 10 Best Note Taking Apps For Android In (Unique & Incredible)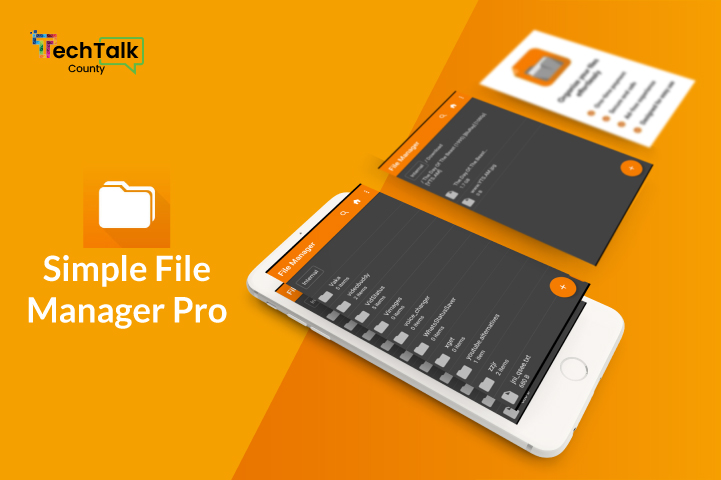 Simple File Manager Pro is one of the best Android file managers and is an open-source file management app that offers a clean and easy-to-navigate design. For just $1.19, you can enjoy an ad-free experience while managing your files on your Android device.
Features:
Pros
Easy-to-use and simple design
Ad-free experience
Multiple options for managing files
Storage analysis feature to check the device's storage and free space
Multiple sorting options
Password-protect feature to keep your files private
Cons
Cannot view files within the Simple File Manager Pro app, you need to open them with another supported app
A limited number of recent files viewable in the "recents" tab
Limited customisation options in settings
No cloud integration
Also Read: Best uTorrent Alternatives In 2023 For Faster And Safer Downloads
X-plore File Manager is among the best file manager apps for Android. It is an ad-supported file manager with a distinctive, colourful user interface and a dual-pane structure for simple file management. You may access files on distant file systems like FTP and well-known cloud storage services like Google Drive, Dropbox, and more using X-plore in addition to viewing and managing files on your device.
Features: 
Pros
Intuitive and user-friendly interface
Wide range of file management options
Support for remote file systems and cloud storage services
File verification using SHA1 and MD5 hash values
Cons
Ad-supported, with the option to pay for ad removal
Some users may find the colourful UI to be too busy
The free version has limited features compared to the paid version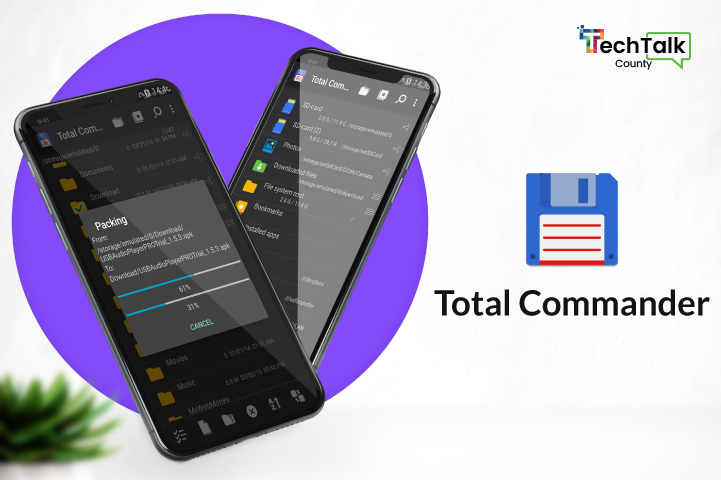 Total Commander is a feature-rich and among the best file manager apps that stand out from the rest with its innovative interface and functionality. It's an ad-free app that offers a text editor for editing files.
Features:
Pros
Unique and innovative interface
Ad-free
Text editor for editing files
Plugins to add additional features
Easy file management with two side-by-side panels
Advanced functions like change directory, internal command, launch app, view file with app, send to app, and send shell command.
Cons
The interface and functionality may take some getting used to for new users
Some features like plugins and advanced functions may be overwhelming for basic users
It may not be as popular as other file managers so it could have less community support.
Managing files on your device, SD card, and the cloud are all handled by ASTRO, an all-in-one file manager. Anyone looking for a complete file management solution will find ASTRO to be one of the best Android file managers because it allows for the addition of numerous storage sites.
Features: 
Pros
Complete solution for file management. 
Options for advanced filtering and searching. 
Vault with encryption for safe file security. 
Includes clearing-up features to make room on the device.
Cons
A few individuals might think the interface is a little crowded. 
Some of the complex functions could be difficult to understand for some users. 
The cleaning abilities might not be as good as those of other cleaning applications.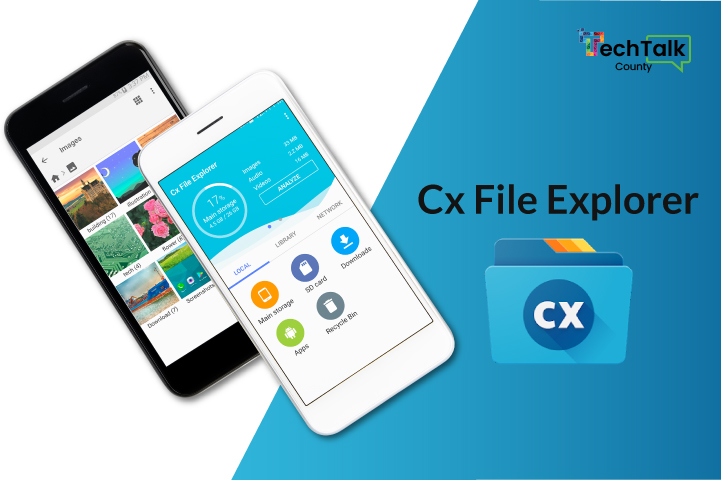 The Cx File Explorer is an ad-free file manager with a bright graphical interface and an extremely user-friendly design. It is one of the best file manager apps that makes managing your files easier than ever before.
Features:
Pros
Ad-free
Extremely user-friendly design
Can manage files on mobile, cloud and PC
Built-in features for managing apps and cleaning storage
Automatic organisation of files
Cons
Some users might find the interface too simple
Some advanced features are not available
It does not support all the cloud storage providers
There is no built-in text or image editor
Mi File Manager, created by Xiaomi, is one of the best android file managers and a free file management app that offers a clean and user-friendly interface. With this app, you can easily access, manage, and organise all your files in one place.
Features:
Pros
Clean and user-friendly interface
Automatically sorts files for easy organisation
The device optimisation feature helps free up space
Remote access to files via LAN or FTP
Cons
Ad-supported, no option to remove ads
Ads are unobtrusive and do not interfere with the use
No additional features compared to other file managers
Also Read: Best Scanner Apps With OCR (Android & iOS)
Material Files is a cutting-edge, user-friendly file management programme similar to Files from Google. It has a pure black night mode option that is a tiny bit darker than the default night mode for those who want a darker UI.
Features: 
Pros
Modern user interface 
Night mode 
Free and without ads 
Add fresh file and folder directories
Cons
There is no built-in photo or video viewer. 
You must choose an app on your smartphone to view photographs and videos. 
There are fewer features compared to other file managers.
Summing Up
With this, we conclude our list of 10 best file manager apps for Android. With these apps, managing files on an Android device becomes easy. You may choose an Android file manager from the given alternatives to make it simple for you to access, manage, and organise your files.
The various choices you have are XFolder, Solid Explorer, Files by Google, and Simple File Manager Pro. Finding the file manager that best meets your needs is simple because each has a distinct collection of functions. These file managers will make it simple for you to keep your files organised and readily accessible, including both basic file navigation and complex capabilities.
FAQs (Frequently Asked Questions)
Which one is the best File Manager for Android?
It depends on your needs and preferences for Android. Solid Explorer is renowned for tis extensive file management tools, while XFolder is noted for its slick and contemporary look.
How do I organise files on my Android phone?
You can use one of the file manager apps such as XFolder or Solid Explorer, to arrange files on you Android phone. You can use these programs to move or remove files, create new folders and examine your files by type. ou may also organise your files by name, date, or size using the built-in sorting options.
How do you find hidden files on your Android phone?
You can use a file management program like Files by Google or Simple File Manager Pro to identify hiddden files on your Androidd phone. With these programs, you can view every file on your device, even those that are hidden. You may also discover particular files quickly, usong the built-in search feature.
Which is the safest file manager for Android?
Files by Google is regarded as one of the safest amd best file manager apps for Android in terms of security. Google created this software and receives frequent updates to ensure your data are shielded from any potentital security threats.
Which app is the best to open all types of files?
One of the top apps for opening various types of files is X-plore File Manager. It is an excellent alternaative for customers who need to various types of data on their devices beacuse it supports a wide arra of file formats like documents, photos, audio files and video files too.
What is the default Android files app?
Files by Google is the name of the stock Android files application. Most Android smartphhones already have this software pre-installed, offering a straightforward user interface for managing your files. You may access files on external storage and online storage services, as well as view and organise items already on your device.