Introduction
Virtual reality (VR) technology has come a long way in recent years, and with the rise of mobile gaming, it's no surprise that virtual reality games for Android devices have become increasingly popular. In this blog, we will talk about the 20 best VR games for Android that offer a unique and engaging experience for their players, so they can fully immerse themselves in a virtual world.
The beauty of VR gaming is that they give players a sense of presence in a virtual environment. The use of headsets and controllers enables players to interact with objects and characters in the game as if they are in the real world.
20 Best VR Android Games for The Best Gaming Experience (2024):
1. Beat Saber
Beat Saber is a popular VR rhythm game in which players use laser swords to slice through obstacles to the beat of the music. The game includes a wide range of tunes, from pop classics to electronic dance music, and it has amassed a big fan base since its introduction in 2018. Beat Saber's addicting gameplay and immersive VR experience have sent it to the top of the VR gaming charts, and it has won critical acclaim for its innovative take on the rhythm game genre. The game is available for Oculus Quest, PlayStation VR, and PC-based VR devices, among others.
Also Read: 10 Best Game Boosters For Android To Enhance Your Gaming Experience
2. Minos Star Fighter
Minos Starfighter is one of the best VR games for Android that lets you ride and speed across the galaxy and space while facing terrifying obstacles.
Minos Starfighter VR is an arcade first-person space shooter game that comes with triple AAA visuals to offer you the best gaming experience. Furthermore, Minos Star Fighter offers you unlimited gameplay with progressively stronger waves of adversaries and the ability to share your scores with other players. However, before you begin, make sure that your phone is compatible with the Google Cardboard software. This is because the game is designed exclusively for Google Cardboard-style VR headsets. 
3. Haunted Rooms
Rabbit Mountain developed Haunted Rooms as an escape VR game. This mind-boggling puzzle game can be played on Google Cardboard. The game is popular for its intriguing graphics, hair-raising ambience, and commendable background music. If you have a knack for trepidation, then you would love this VR game called Haunted Rooms. 
4. VR Abyss: Sharks & Sea Worlds
When disucssing about the best VR games on android, VR Abyss: Sharks & Sea Worlds cannot be left behind. The game is designed by Rabbit Mountain, where one can experience scuba diving with some thrilling twists. To play this virtual reality game, you must use Google Cardboard. This will give you an entire adventure-loaded maritime experience while playing this game.
5. Hunters Gate
Hunters Gate is a gothic action game invented by Climax Studios. Its fascinating gameplay, mythical environment, and surrounding objects make it addictive for its players. The thrill that one enjoys when one kills the demons and they explode into fireworks is something that the players cherish the most. Overall, it is a very simple and well-designed game that can satisfy your sudden whims to navigate your energy into something strangely interesting.
6. InMind VR 2
InMind VR 2 is a brain game that allows the player to go through the scientific journey inside the human brain. The game was created by Luden.io solely for educational purposes. Here, you will come across a teenager named John, and you will take part in shaping his future through the process of decision-making. This game will help one build their confidence and make better decisions. 
7. Proton Pulse
With over 50 levels to complete and overcome the infamous MOAI, Proton Pulse is, without a doubt, one of the best VR games for Android. The Proton Pulse Google Cardboard is a 3D arcade game wherein the MOAI has launched an attack, and the players must rescue the world using their unique perspective. You have been picked to engage in the atomic paddleball game, where you must direct the proton and destroy the MOAI core with your paddle. The proton is a powerful energy ball that can offer a thrilling experience to the players.
Also Read: 100 Mobile App Ideas To Revolutionize App Development
8. Sisters
Horror is easily one of the most popular gaming genres, and 'Sisters' undoubtedly deserves to be among the top contenders. Players may play this game while seeing the tragedy unfold around them. This VR game for Android comes with simple controls for straightforward play and immersive 360-degree images and improved audio.
Can you fathom how difficult it is just to survive when someone or something doesn't even want to endure your existence here? So, be careful where you look or what you do, or Sisters will provide you with a terrifying gaming experience.
9. Google Cardboard
With Google Cardboard, step into a virtual world of wonder and have immersive experiences from the comfort of your home. With just a piece of cardboard and your dependable smartphone, Google Cardboard transports you into the world of virtual reality. Forget about huge headsets and intricate settings. Your surroundings change, your senses perk up, and you get to travel into the portal of infinite possible cosmos. The VR headset accommodates a smartphone, and when used with particular VR software and apps, it offers a straightforward but intense VR experience. It generates a 3D stereoscopic vision and tracks the user's head motions using the smartphone's screen and sensors, enabling them to gaze and interact with virtual environments.
10. Whispering Eons
In science fiction, cyberpunk refers to a subgenre that blends lowlife with high tech in a futuristic scenario. So, if you like being a hero in that universe, Whispering Eons is for you. Google Cardboard has created one of the greatest VR games for Android. You don't just play the tale in this game; you experience it. The Whispering Eons has fascinating riddles as well as gorgeous scenery. Ryan Conrad, the cyberhero, assists you in exploring his planet, Gaea. You also get to meet and engage with a few non-playing characters, making the encounter feel quite real. Another added benefit is its lovely soundtrack which makes this voyage all the more captivating.
11. Half-Life: Alyx
Valve Corporation created Half-Life: Alyx, a VR first-person shooting game. It takes place in the Half-Life world, between the events of Half-Life and Half-Life 2. Alyx Vance, a pivotal character in the Half-Life series, guides players through a post-apocalyptic metropolis invaded by alien invaders. The game includes a range of weaponry and puzzles that challenge players to interact with the environment while immersed in their virtual realities. Half-Life: Alyx is one of the best VR games for Android and has received accolades for its amazing graphics, fascinating plot, and creative use of virtual reality technology, making it a must-play for fans of the Half-Life franchise and virtual reality gaming in general.
12. Job Simulator
Owlchemy Labs built up a VR simulation game called Job Simulator, which is set in a futuristic world where robots have taken over all occupations. Players take on the role of a human in a job museum where they may experience what it was like to work in various jobs from the past, such as chef, office worker, and mechanic. This is one of the few VR games for Android that has a whimsical and amusing tone, with players employing hand gestures and controllers to interact with things and complete objectives. Job Simulator has been acclaimed for its creative use of virtual reality technology, allowing players to fully immerse themselves in a virtual environment while exploring and accomplishing tasks.
13. Superhot VR
Superhot VR is a virtual reality first-person shooter game created by the Superhot Team. This game rightfully occupies a spot in the list of best vr games on android as it immerses players in a time-bending universe offering them an extraordinary gaming experience wherein the time only moves when they move. Players must utilise their wits and combat abilities to knock out foes and continue through the game's stages. To survive, players must use their environment to their advantage, as well as a range of weaponry such as pistols, shotguns, and melee weapons. Superhot VR has received accolades for its revolutionary gaming mechanics and realistic VR experience, which allows players to dodge and move around in a fully-realised virtual world. 
14. Keep Talking and Nobody Explodes
Steel Crate Games created the VR puzzle game Keep Talking and Nobody Explodes. This VR game for Android is intended for multiplayer play, with one player in VR wearing a bomb disposal outfit and another outside of VR offering instructions on how to defuse the bomb. The game includes a range of complicated bomb-defusing challenges that players must collaborate to solve before time runs out. Keep Talking and Nobody Explodes is known for its unique gameplay and ability to instil a sense of suspense and urgency as players race against the clock to disarm the explosives.
15. Thumper
Drool developed Thumper, a VR rhythm game. The game follows a space beetle through numerous psychedelic environments as users tap, slide, and fly down a track, hitting particular points in sync with the music. Thumper is intended to be an intense and hard game, requiring players to acquire quick reflexes and a sense of timing to win. The game includes an immersive VR experience that gives players the impression that they are hurtling through space at incredible speeds. Thumper has received accolades for its innovative take on the rhythm game genre, with its intense and immersive gameplay distinguishing it as a standout title in the VR catalogue and making it one of the best VR games for Android.
16. BAMF VR
Collecting trophies in VR games is always enjoyable, and BAMF is one such VR game for Android. There is no sprinting or jumping, simply teleportation. Crystals obtained in difficult conditions can be used to locate and unlock the rewards. So you'll have to go exploring, get lost in mazes, and overcome some obstacles to get your trophy. BAMF VR is now compatible with screen-tapping, Bluetooth/USB controllers, and magnetic switches.
Even though it is a Google cardboard game, we recommend you play the game while sitting on a swivel chair or standing up since it makes 360-degree turns easier.
17. The Walking Dead: Saints and Sinners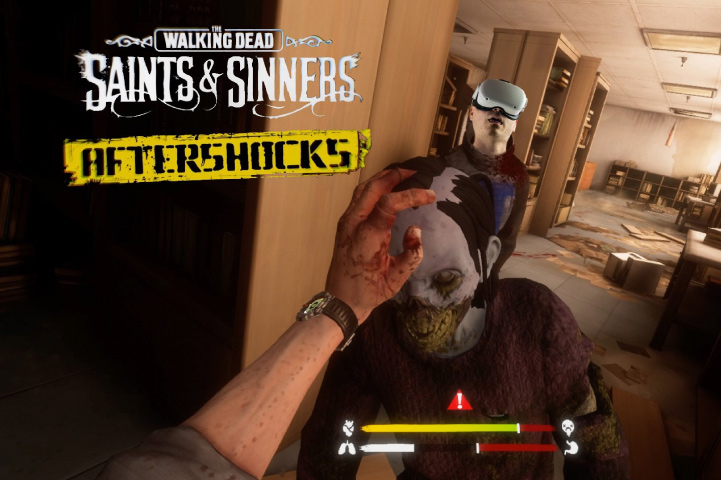 Skydance Interactive's The Walking Dead: Saints and Sinners is a VR action-adventure game. The game takes place in The Walking Dead universe and follows the player character as they navigate a zombie-infested New Orleans. To live, players must scavenge for supplies, construct weapons and equipment, and fight off swarms of undead. The game includes a fully realistic VR world in which players may interact with items and environments through the use of VR technology. The Walking Dead: Saints and Sinners has received critical acclaim for its immersive gameplay and tough survival tactics, making it a must-play for fans of the franchise and zombie games in general.
18. GORN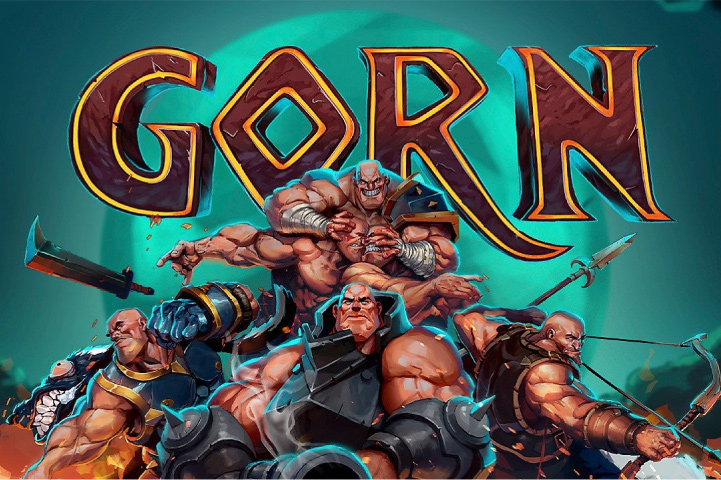 Free Lives created GORN, a VR gladiator-style combat game. The game takes place in a bloodied arena, and players take on the role of a gladiator who must fight off waves of adversaries using a range of weapons and battle methods. The game has a unique physics-based fighting system that allows players to eliminate their enemies with their fists, weapons, and even their surroundings. GORN's cartoonish design and over-the-top brutality have been acclaimed, making it a standout entry in the VR fighting genre. 
19. VR Fantasy
A game that transports you to the role of a hero in sparkling armour. In this VR Fantasy game, you will explore the dungeons of an old stronghold and battle with your sword.
You must have a Virtual Reality viewer, such as Cardboard, to play the VR Fantasy game. You may test your strength and ability by using archaic battle weapons such as an axe, a sword, and a strong magic staff that allows you to unleash fireballs. This game is unquestionably one of the best VR games for Android.
20. The Climb
Crytek's The Climb is a virtual reality climbing game. Players take on the role of rock climbers who must negotiate a succession of difficult terrains such as mountains, canyons, and other natural landscapes. The game has a unique climbing mechanism that allows players to grip and climb various surfaces with their hands, making the experience very immersive and realistic. The Climb also has excellent visuals and ambient music, which makes the game more captivating.
Conclusion
With this, we conclude our list of the 20 best VR android games. Virtual gaming can offer immersive and engaging experiences to the players. So, whether you're a fan of action-packed shooters, relaxing fishing simulations, or spine-chilling horror games, there is something for everyone on this list. From popular titles like The Walking Dead: Saints & Sinners and Beat Saber to lesser-known gems like End Space VR and Real VR Fishing, these games are sure to transport you to a new world of fun. So grab your VR headset, download your favourite game, and get ready to experience the future of mobile gaming like never before.
FAQs (Frequently Asked Questions)
What VR games can I play on Android?
All the games mentioned above can be played on Android devices. Just ensure that your Android device is compatible with the game you choose to play and that it has all the required hardware and software to run it smoothly.
What is the best VR game for Android?
Determining the best VR game on Android can be subjective, as different people have different preferences regarding gameplay, graphics, and overall experience. But going by the customer ratings, BAMF VR, Proton Pulse and Hidden Temple VR are some of the best VR games on Android.
What are the best VR graphics games for Android?
There are several VR graphics games available for Android, and the best ones may vary depending on individual preferences. However, some popular VR games with impressive graphics include The Walking Dead: Saints & Sinners, Keep Talking and Nobody Explodes, Beat Saber etc.
Can I play VR on mobile?
Yes, you can play VR games on mobile devices. However, you will need a compatible VR headset and a smartphone that meets the minimum requirements of the headset. Some VR headsets like Google Cardboard, Samsung Gear VR, and Google Daydream View are designed to work with smartphones, and they can provide players with a better VR experience.